Well, I have an itsy, bitsy, teeny, weeny little garden. I'm hoping, if we're still in this house come summer, to till up a bit of the backyard and fence it to perhaps grow a few more things like tomatoes and peppers. There's only so much you can grow in pots and in a space 1/2 the size of a car! :)
So, whether or not we're here, I'm in preparation mode. Hey, it's
biblical
! The ants prepare for the future.
To me, it applies in this small area of gardening. Who knows where we'll be in a month, two, or even six. So, I'm preparing for that as well as for if we will be here. :)
I've been wanting to compost for a while, on a small scale. So I found a tutorial online and decided to make my own composter!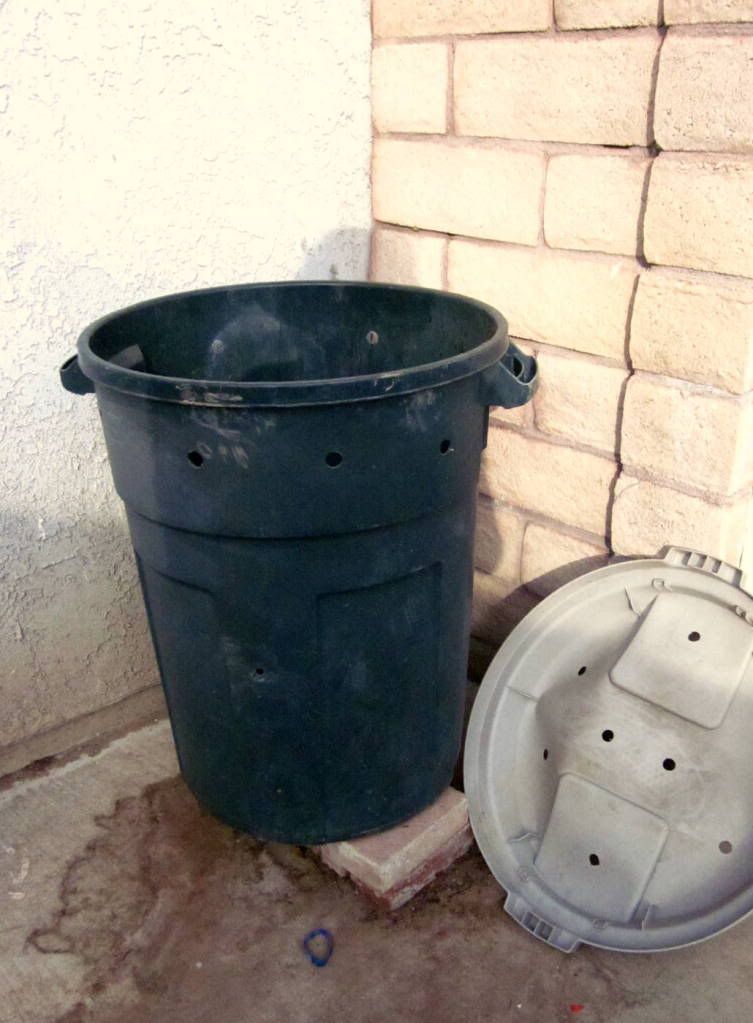 I had one of these big buckets around, so it was so simple! Here's how to make your own!
Materials Needed
Large Trash Can with lid (preferably a "lock-on" lid)
Platform (I used bricks, but you can use wood or whatever you have)
Drill and bit (I used 1")
Directions
Find a big plastic barrel, preferably one you don't care much about. I doubt you'll use it for anything after this! :) Also, it's good if you can find a barrel with a lid that locks on, so you can roll the barrel to mix all the junk up. I didn't have this, but if you do, use that kind!
Drill holes in the lid, and down the sides so that air can get in, as well as so it can drain if it gets too damp. I used a 1" bit and drilled holes all around the barrel and lid.
Put it on something that will allow it to drain well and be off of the ground. I think someplace it said this helps it to retain heat better.
Once you start filling your composter, you'll want to roll it around every few days. This will nicely mix the bacteria into the new material and help it to break down. Also, place your composter in a sunny area, because the sun is what allows this compost to heat up and begin breaking matter down. If you live in a super cold area, it might be a good idea to cover your composter with plastic to keep the heat inside.
Now, what do you put inside and how much? To start it off, there is green material and brown material. The green material is high in nitrogen and consists of kitchen scraps (not meat or greasy things), manure (not dog or cat), grass clippings, weeds, eggshells...etc. The brown material is high in carbon and consists of dead things like crunchy leaves on the ground, sawdust, straw, paper, etc.
The internet is full of conflicting views of the ratio of brown to green material, but for me, it's worked
well to have equal parts of each. After you fill part of your composter with equal materials for the first
time, you need to water it with the hose, so that it is like a squeezed out sponge but no damper. It'll
get stinky and gross if you have standing water in there!
Here are a few ideas as a "cheat sheet" for what you can put into your composter:
Shredded paper
Fruits and Veggies
Egg Shells
Grass Clippings
Your old perennials at the end of summer
Nutshells
Fireplace Ashes
THIS website has more ideas of what to put in and what not to put in your barrel
Once you are ready to use your compost, it's vitamin-filled and your plants will love it! Mix it in with your soil when it comes time to plant, and you're ready to go! Go make some compost!

I hope you liked this simple idea! Go check out my

giveaways

going on right now if you haven't gotten a chance to yet!

Trashy...Compost...Get it? :)