I
f you think you have no place to
garden
, think again! I personally think that everyone should try their hand at
growing
things. :) Besides babies of course! It's such a relaxing and beautiful time to think and be thankful for the miracle of life in such a simple thing as a plant, when you take those few moments out of your day to grow something from a seed.
I only have a tiny spot in the front of our rental house to have a garden. Did you read that? The FRONT of our house. :) Yea, yea...that's probably super tacky. But you know what? It makes me happy! :) So, the neighbors with the absolutely perfectly manicured yards taken care of by gardeners can just frown if they'd like. I hope they can discover the fun it is to grow things! :) Let me show you what I've been working on, so you can get a bit of inspiration.
I have a green AND a brown thumb, so I've been trying to learn. With both successes and failures, I say, go to your local garden store, pick some fun plants, and plant them in your pots, little tiny garden plot or alllll over your backyard! :)
Captain hooked up all the drippers to water our plants. It was actually not that hard. You can get the multi-spout at your local Lowes or Home Depot. The tubing also. Then just attach it and place it on the ground next to the plant you want to water with a little stick-pin and you're good to go!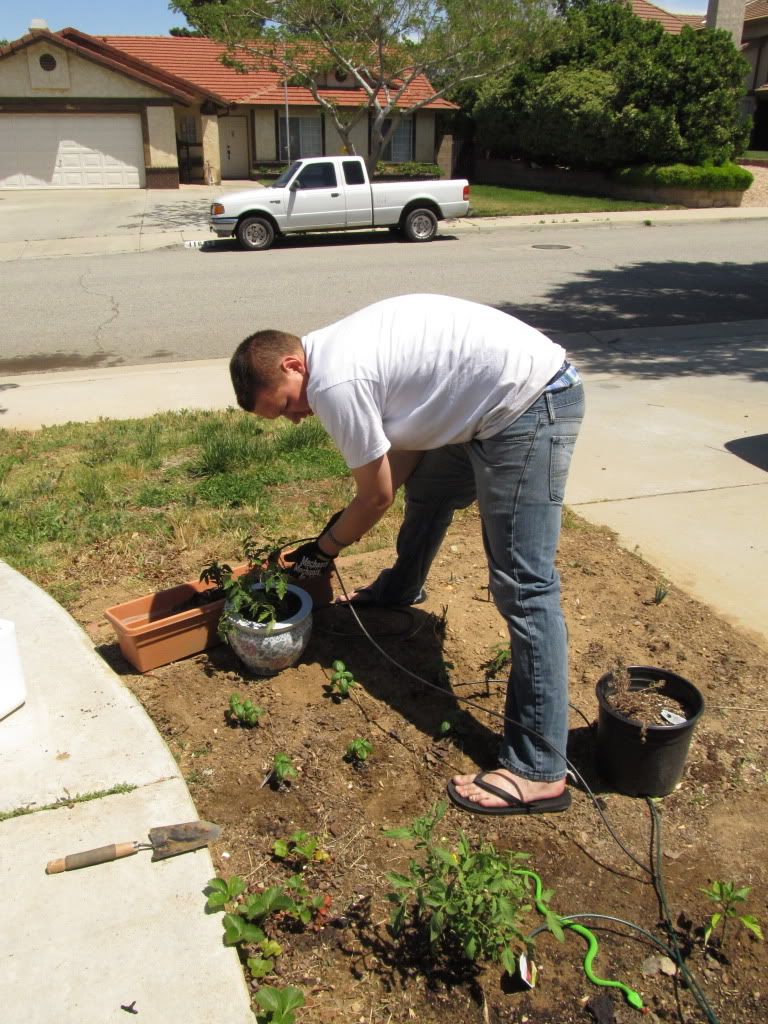 (more after the jump!!)
These nasty little suckers (leafhoppers) are eating the juice out of my grapevines! I bought neem oil in case my backup plan doesn't work. What's my backup plan, you ask? Praying mantis babies!!!!
That sounds crazy. I thought so too! Apparently, you can buy praying mantis eggs. From your garden store. :) They eat the bad bugs (leafhoppers) in your garden and each little pouch contains about 200 babies that will hatch. All you have to do is attach them to your plant. :) I personally like praying mantis', so it's not too gross to me. Plus I like odd things and I hate things that kill my plants. All this dissuades me from being grossed out by the nasty pouch full of eggs. :)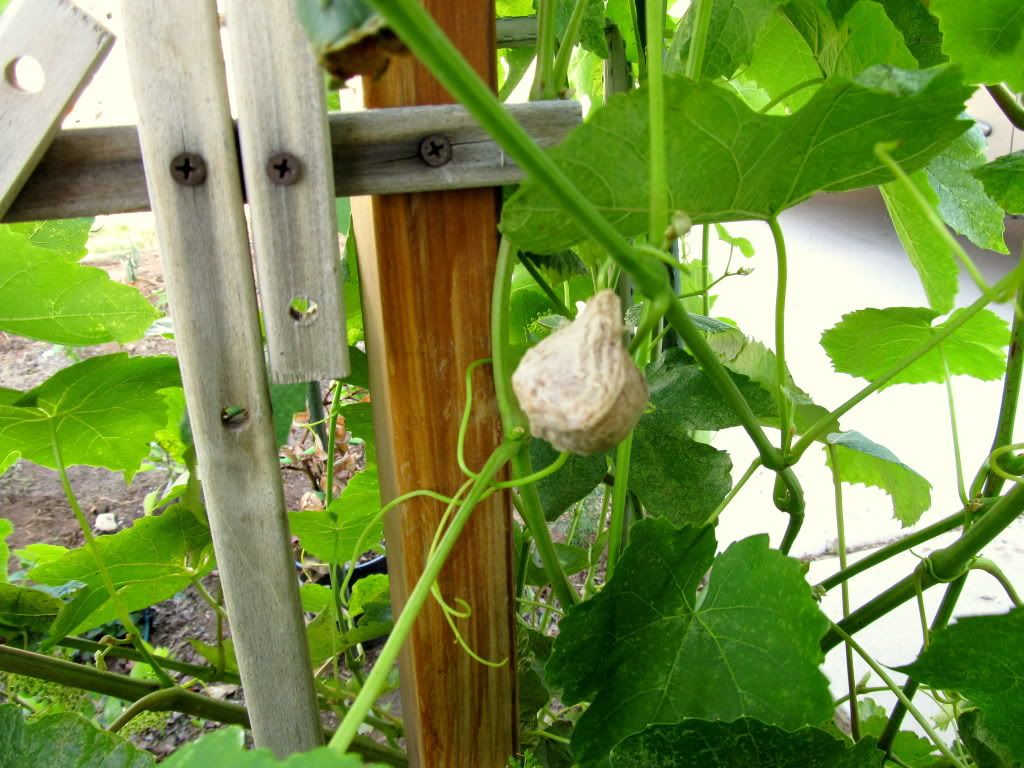 I'm trying to train my puppies to stay on the lawn and not run amok while I garden. They were super good. :)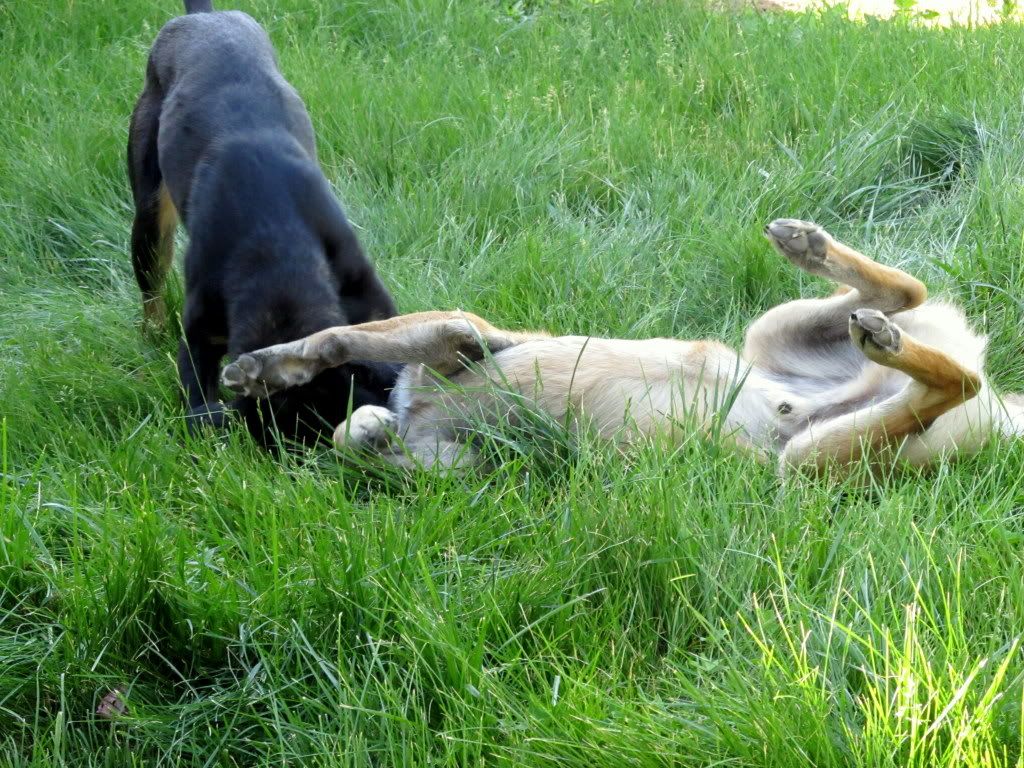 These are the shoots that I grew off my sweet potato! Now they are growing in my garden! Eee!
And last but definitely not least, is the spiffy wooden thing I rigged up quickly to try to train my over rambunctious grape vines that are sprawling all over the place. :) A couple boards and a few nails later, drilled some holes and twine and I hope those grapevines will start learning to drape elegantly rather than look like a bad haircut! :)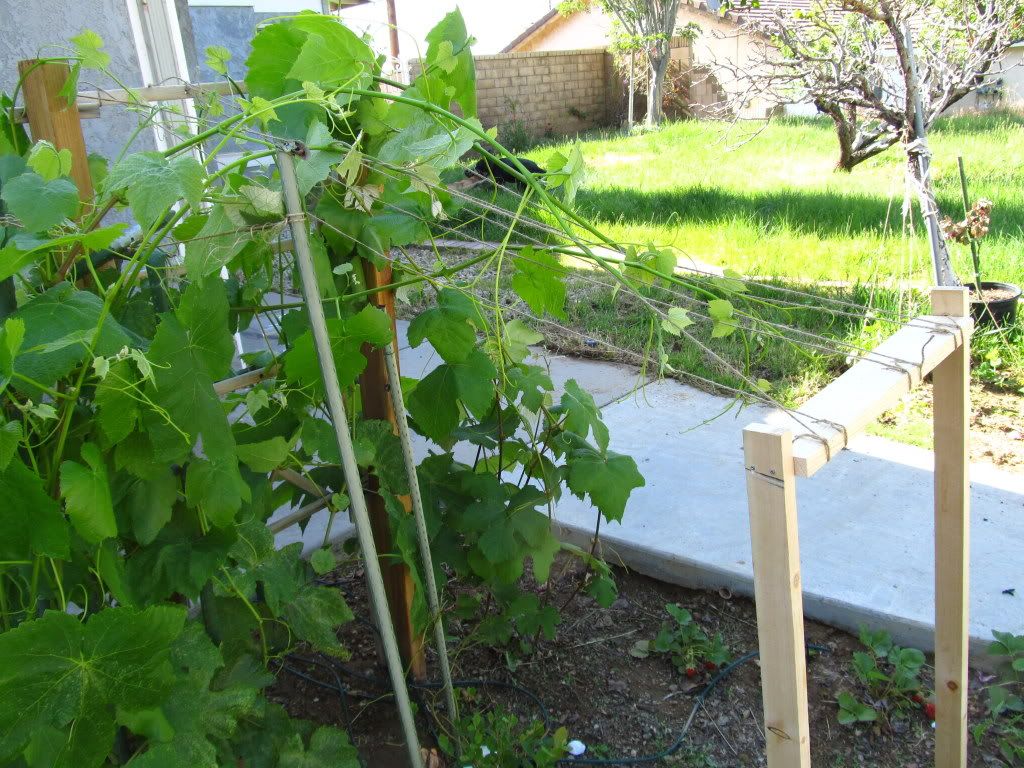 Hope this inspires you to pick up your shovel, grab a few fun plants that you want to try growing, and get your hands dirty!
Little secret: I honestly do love weeding a bit. Whenever I see those little weeds poke their heads out of the ground, I make an afternoon of it. I sprawl on the sidewalk and make that garden weed free. Now *that* is a feeling of success. :) Instant success.