I
'm going to let you in on a secret...ok, well maybe not a secret. But most people don't know this, I promise you.
Or maybe they're just scared to try it. But it's worth it!
Crunchy Betty
shared a teeth whitening trick on her blog a little while back, and Joey and I decided to try it for ourselves.
Now, just so we're clear, don't go open your grill and grab a charcoal brick and put it all over your teeth. Ew! Just don't. Activated charcoal is different.
Now, we've only done this once, but I'll keep updating as we do it more, that way we have better 'before' and after pictures!
(learn how, after the jump!--->)
Activated charcoal is super purified, and porous, so it soaks up all the impurities it encounters. Thus, the reason they use it in water filters like the
Brita pitcher
. Something I learned about it,
don't
take it with medication (it comes in tablets). It will pretty much cancel out the meds, and that could be quite bad.
Apparently this type of charcoal is also good for hangovers. Not that I've ever needed it, but apparently some have. :) I really don't know the effects of taking charcoal pills, although they are readily sold. So research that well, if you want to.
As I learned from Crunchy Betty, charcoal eats tannins up. Tannins are in many things, but most particularly coffee, tea, wine, and even persimmons! She says it doesn't absorb the calcium salts that make up tooth enamel, so it's perfectly safe to whiten. Unlike peroxide...which makes your teeth totally sensitive!
So how does this work?
Well, once you get past the idea that your teeth will look a little freakish during this quick process, it's super easy. Even Joey did this, and he gets weirded out by that kind of thing.
I'm not sure how abrasive the activated charcoal is, so I don't necessarily recommend putting it in your toothpaste, although you're welcome to!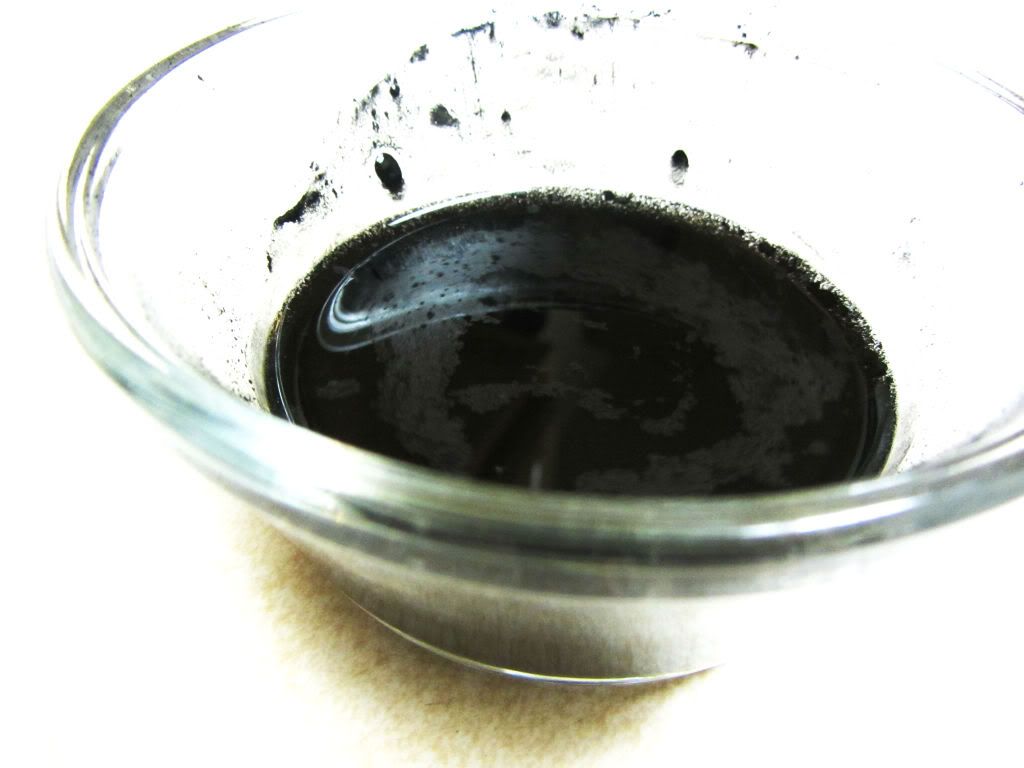 Get Your Bright On!
Brush your teeth like normal.
What we did (for 2 people), was put 2 teaspoons of the charcoal in a little bowl, and mix with a bit of water. Just mix until it's a bit more watery than a lava-like consistency. (do be careful. This stuff gets everywhere. Not to worry though, it comes out and as long as you can wash whatever it gets on, you're safe!)
Then, slosh it around your mouth for about 30 seconds. After that, hold it in your mouth for about 5 minutes.
Spit it out (careful not to splash!) and see your glorious grin. (ok, maybe it won't be glorious yet. It'll look something like this.)
Ew! Did we scare you yet? Well, then rinse your mouth out really well, and maybe even brush with water real quick again. Be sure to get your tongue clean!
But it gets better, I promise! See?
Now you know how to do it! We're planning to do this regularly, to get our teeth in tip top, sparkling condition! Let me know how it works for you.
Our teeth were a bit whiter, although not a drastic difference. But, we hear, the more you do it, the better they look! We immediately noticed how smooth and fresh they felt. :)
Now, where do you get said charcoal?
I found
activated charcoal capsules
at the local health food store, Campbell's. That's 1 option. You can open 1 tablet and pour it into the water for your tooth treatment. You can also find them almost anywhere like a drug store or even grocery store!
I personally ordered a bag of activated charcoal online on Amazon from
Starwest Botanicals
.
Let me know how this works for you, or what your teeth whitening method is!
Linked to:
Artsy Corner Thursday
Happy Hour Linky Party
Simple Lives Thursday