Take a peek into my pots...
That's where my garden grows, since we live in an apartment.
And it is my pride and joy as I learn what the heck I am doing! :)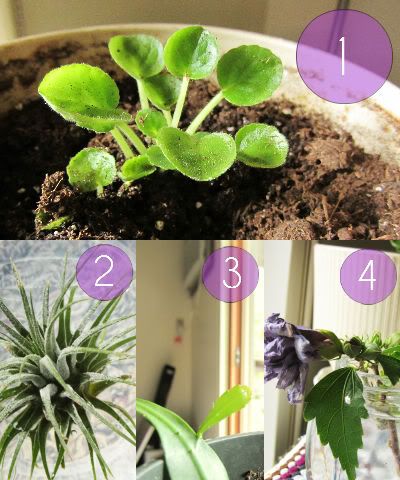 1. My African Violet. My uncle gave me a transplant, and it's been growing like crazy. It's in a pot of normal dirt, right inside the sliding glass door. It gets daylight but not directly. Obviously it's loving it. I seriously water it. That is all. :)
2. My
air plant
(tillandsia) growing happily. In this photo, it's in a pitcher of water, during its bi-weekly soak.
3. The
Night-Blooming Cereus
has totally rooted. Both leaves. Yay! One was placed in dirt to root and is very solid, and now has this little leaflet popping off! The other was rooted in a glass of water, which worked very well.
4. The next, is a plant I'm attempting to root in water. So far so good! It looks like a few root stubs are forming along the stem! Obviously you can't see the flower well, as it's wilted, but the flowers are medium-sized on a large bush or small tree. :) Any clue what it is?
(more planty-ness after the jump-->)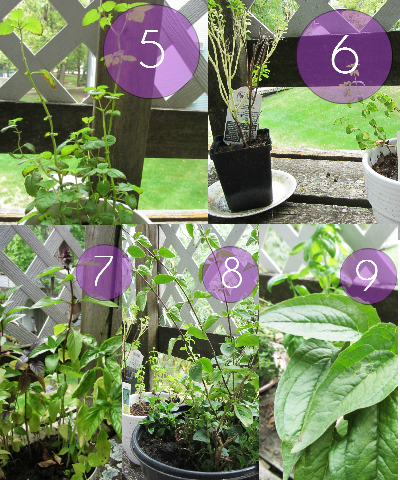 5. My lemon balm survives! It does have this brown crunchy ring around each leaf, though. Any idea why?
6. Still babying the basil I saved from Hy-Vee's final garden sale-day. Not too sure if it will survive yet. It sort of looks like it wants to die, but it's sprouting green leaves at the top. :) Peeking from the side is the spearmint I saved from Hy-Vee too. It wouldn't die if you stomped on it.
7. Thai Magic Basil that I was given. Love the scent!! It's doing well after transplanting.
8. Ok, sooooooo... I forgot what this was. Is it oregano? (I have the worst memory)
9. Echinacea!! I haven't figured out how to use it yet, but never fear...I will!! The leaves are so rough. I love it. I also planted a flower head so that it sprouts in spring again. It needs a cold freeze.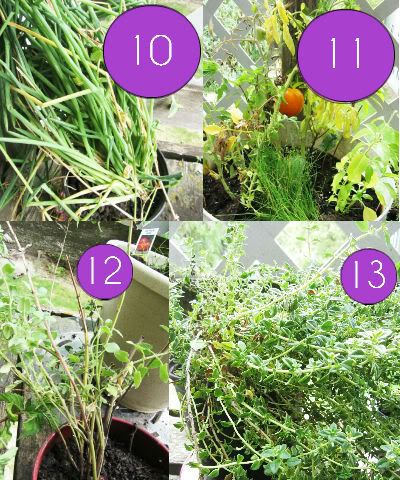 10. Chives! They're growing like crazy. I have since chopped them for cooking, and they are already regrowing faster than I can eat them! I wish I would have known these were so hardy sooner!
11. A tomato and baby chives growing. Hopefully once the tomato dies for the season, I can transplant the huge chives here as well.
12. Maybe this is oregano. Heellllppp!
13. This is lemon thyme. Yum! I haven't cooked it quite yet, but it smells heavenly.
I hope your gardens are doing fabulously, as we travel into fall. What do you do with your potted plants in winter? I'm worried not many will survive unless I figure out a solution.
Happy growing!! I hope it makes you as happy as it does me. :)