O
ne of Joey's favorite fruits is cantaloupe. I love cantaloupe (or muskmelon) too, but you know me. I love unique recipes and well, cubed cantaloupe can just get a bit...boring. So, I made
this tasty drink
, and now this Cantaloupe Pie recipe.
Now, cantaloupe pie
may
strike you as a bit weird...or mushy. But it's not! Try this tasty pie, I tell ya! It's amazing! What better way to use that "right before winter" cantaloupe from the farmer's markets? I wanted to snatch up a bunch this morning.
This may sound like an odd pie, but if you like fruit and custard, you'll like this! It's creamy, light, and not overpoweringly sweet like some pies can be. You can make this into a large pie but I thought it would be a fantastic idea to make mini pies. Portion control, you know? I'm absolutely crazy about pie...I need restrictions. :)
(pie recipe after the jump-->)
Cantaloupe Mini Pies
(
Printable
)
Makes 4 mini ramekin pies| Prep Time: 1 hr| Cook Time: 10 min
Gather Your Gear
Crust
2 C crunched up crackers/cookies (I used
Kavli Crispy Thin Crackers
)
3 T. unsalted butter, melted
Filling
1 cantaloupe
1/2 C. coconut flour
1/2 C. honey or other sugar
1/4 tsp. salt
1/2 tsp. cornstarch
1/2 tsp. water
3 egg yolks (save the whites for macarons!)
2 T. water
1 T. butter
1 tsp. vanilla
Meringue Recipe
Mix It Up!
1.
Preheat oven to 350 degrees farenheit. Mix together the cracker/cookie crumbs and melted butter until
the crumbs stick together (add a bit more butter if they don't). Press the cracker 'dough' into the
ramekins like a pie crust. Bake for 12-15 minutes or until the crust starts to lightly brown. Take out of
oven and cool.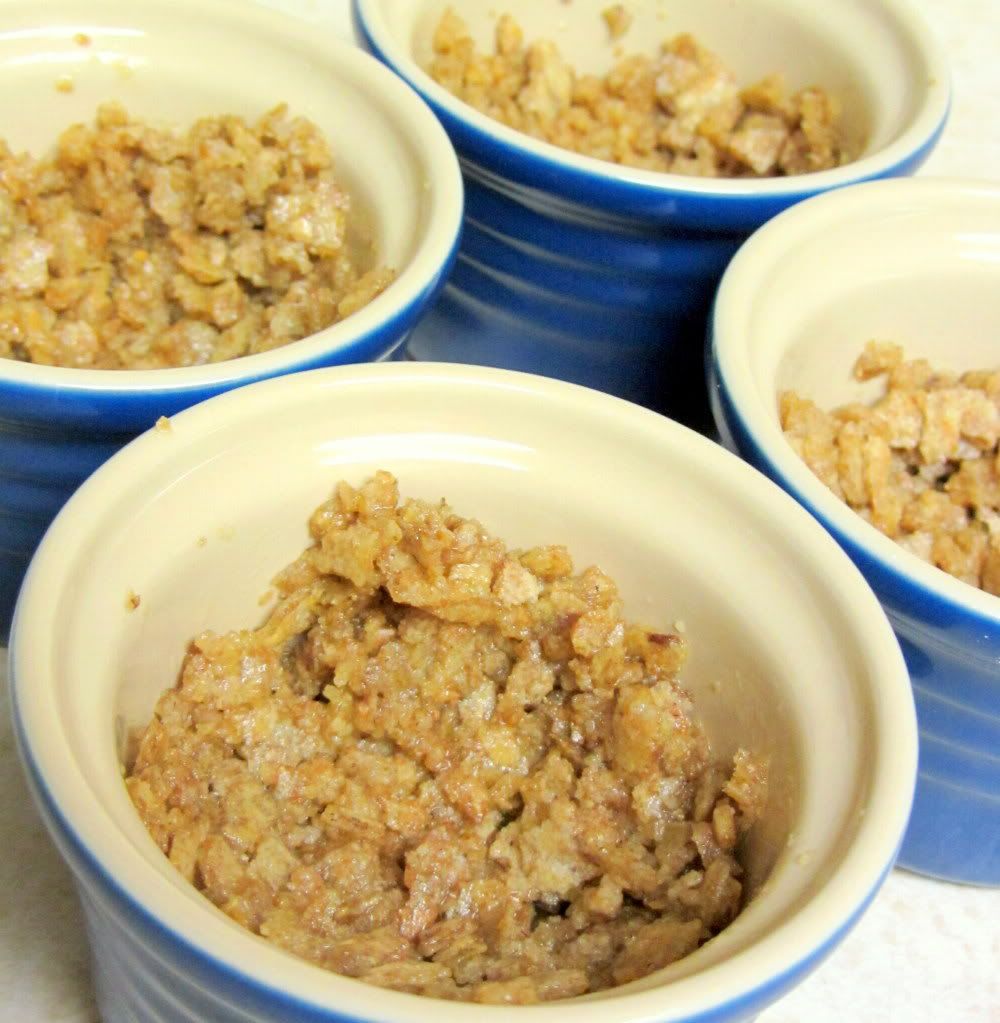 2. Turn your oven up to 400 degrees. Slice your cantaloupe in half and scoop out the seeds. Cut out the
melon pulp (I used a knife but you can use an ice cream scoop too) and place into a sauce pan over
medium heat.
3. Bring the melon to a gentle boil, mashing the cantaloupe as it heats so the juice is released. Transfer the
pulp to a food processor, blender, or magic bullet and process until no more chunks remain. Depending
on the size of your cantaloupe, you should have about 2 cups. If there is more, set it aside for another
use such as sorbet. Pour the 2 cups of pulp back into the saucepan.
4. In a separate bowl, mix together flour, honey and salt. Dissolve cornstarch in 1/2 tsp. of warm water in
a small bowl. Add both mixtures to the cantaloupe pulp and cook, stirring, until thick. It will look a bit
weird at this point.
5. Separate you egg yolks. Place your whites aside for meringue or if not using meringue, for macarons.
Beat the egg yolks until smooth. Add 2 T. of water. Stir a bit of the melon pulp into the egg yolks so
that they warm up gradually. Do not mix it together all at once or the eggs will cook! Pour the yolk
mixture into cantaloupe mixture. Continue cooking for about 10-15 minutes, stirring regularly, being
sure not to let it burn. Once it is done, the filling will be thick and creamy.
6. Remove the pan from heat. Add in butter and vanilla and mix until the butter has thoroughly melted.
The filling should look custard-y.Pour it into the ramekins with the mini crusts for perfectly miniature
pies!
7. Top with the meringue and bake 10 minutes more. Refrigerate and cover with plastic wrap. Eat when
chilled, with a spoon.
This was by far one of the most unique recipes I've tried, and I was absolutely thrilled to love it! My husband doesn't like custard, or pie really, so the fact that it was cantaloupe still didn't matter. :(
But I loved it, so I gradually finished them all off. No problem there. :)
Linking up with:
SaltTree-Open Call Tuesday
Homestead Revival Barnhop #82
Weekend Potluck #39