L
et's just start off by saying,
I have an old sewing machine
!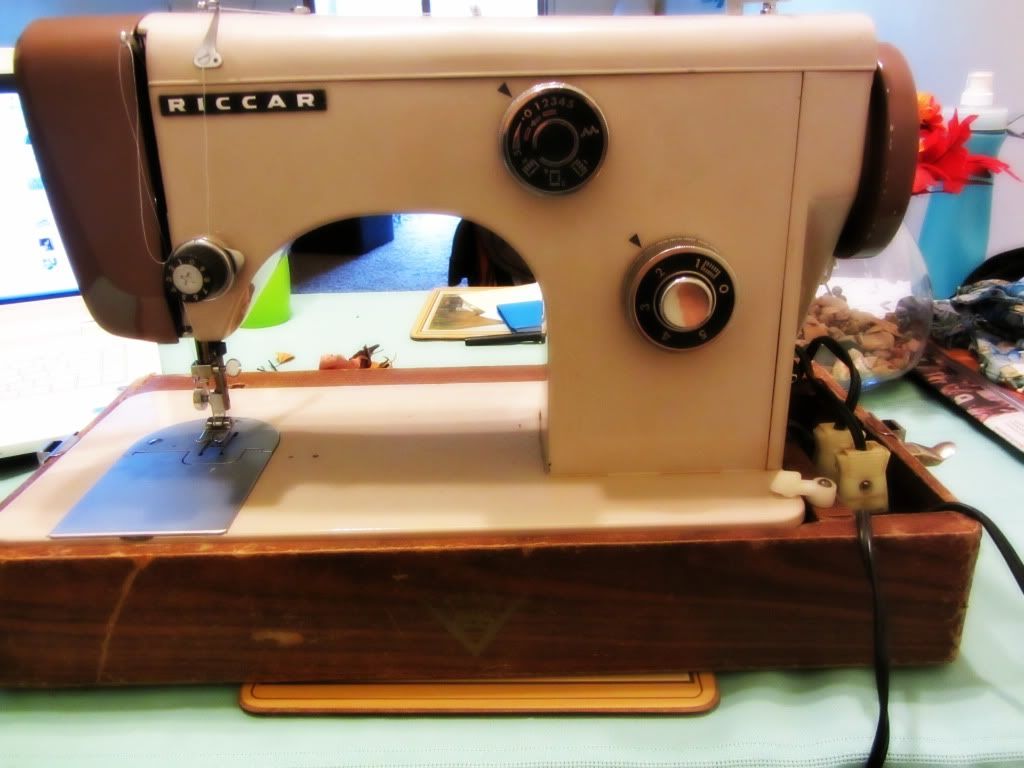 It's a Riccar Z208B, as far as I can tell. If you have a Riccar, you can go
here
and find your model too, if you don't know what it is. They have all the product manuals!
I learned to sew when I was quite young, but honestly I haven't done much sewing since Jr. High, so I have lost most of what I knew! This is my journey of re-learning! I haven't used my machine very often, and so it hasn't been cleaned...at least by me. That's...bad. :)
Although I have an older machine model, most sewing machines have a few basic cleaning methods, and the metal ones need to be oiled several times a year if you do regular sewing.
Sewing Machine Maintenance
Gather Your Gear
Sewing Machine Oil (sold at Jo-Ann's, Hancock Fabrics, and other craft stores.
Little Brush (eyeshadow brush size)
Little clean cloth
Sewing Machine Lightbulb
Philips Screw
*optional sewing machine needle
Clean your Ma-chine
1. Open the front compartment of your machine where the light bulb is. If it hasn't been changed in a while, and looks like mine...Yikes! It needs changed!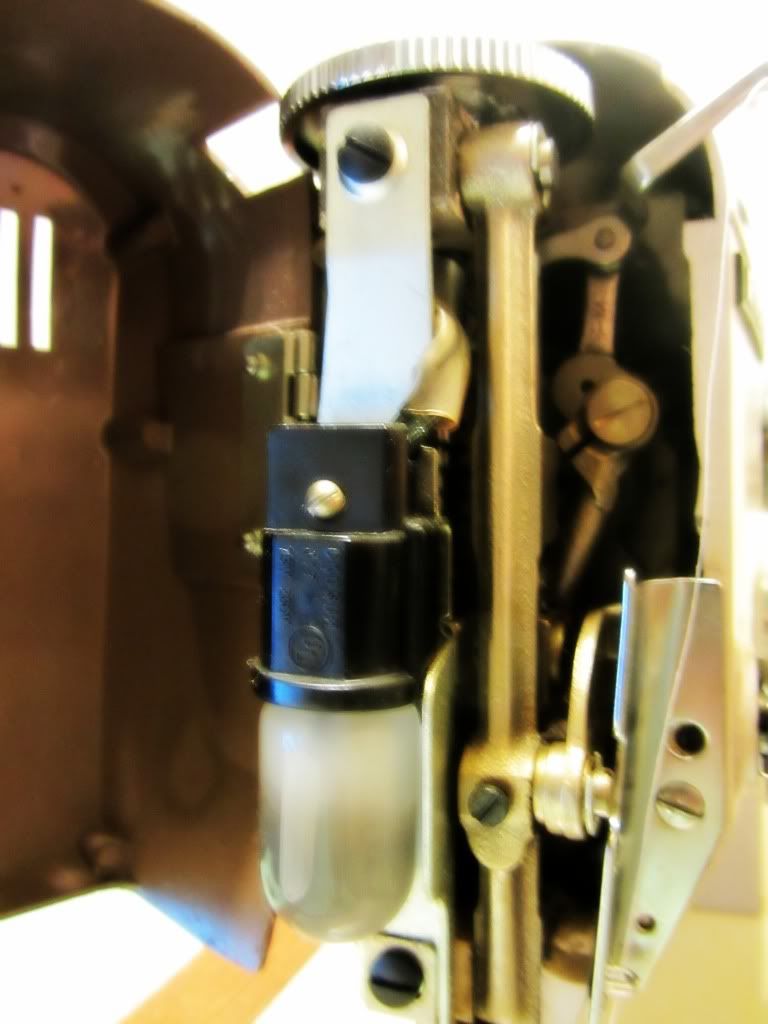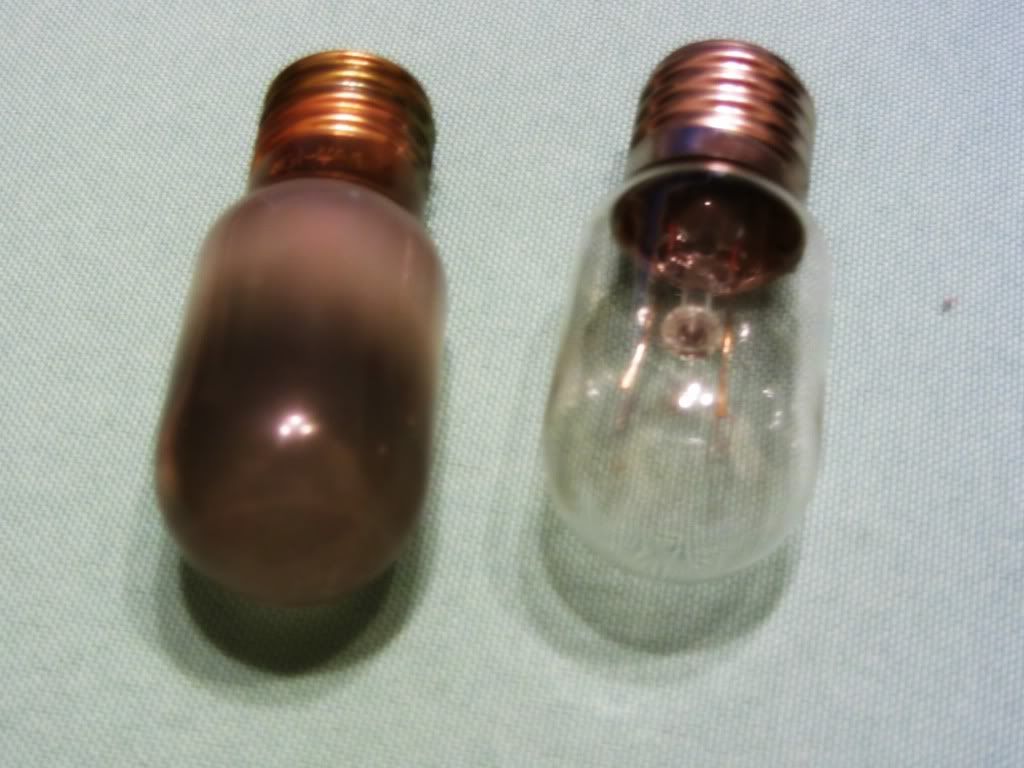 2. Be sure to dust out the light compartment with your tiny brush as well. Refrain from blowing on the dust, as it can create moisture in the compartment. Get that little brush into each nook and cranny and get all the dust out!
(learn more after the jump-->)
3. Next, I opened the bobbin compartment. There were 2 screws, so I loosened those, and off came the metal case that lies under the foot. Then, you would see the bobbin (below).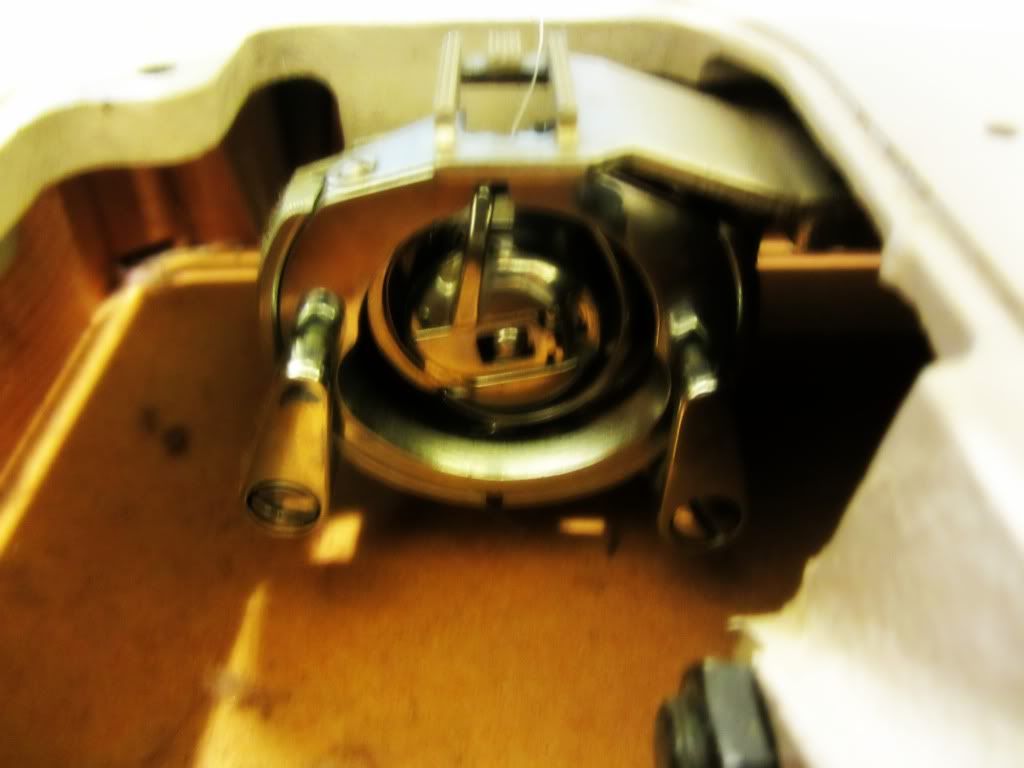 sorry for the blurry photo!
The two metal clamps on either side of the bobbin case push to the sides and allow the bobbin case to fall out. Be sure to watch how this fits so you can put it in again. It took me a bit to figure it out because I didn't watch carefully!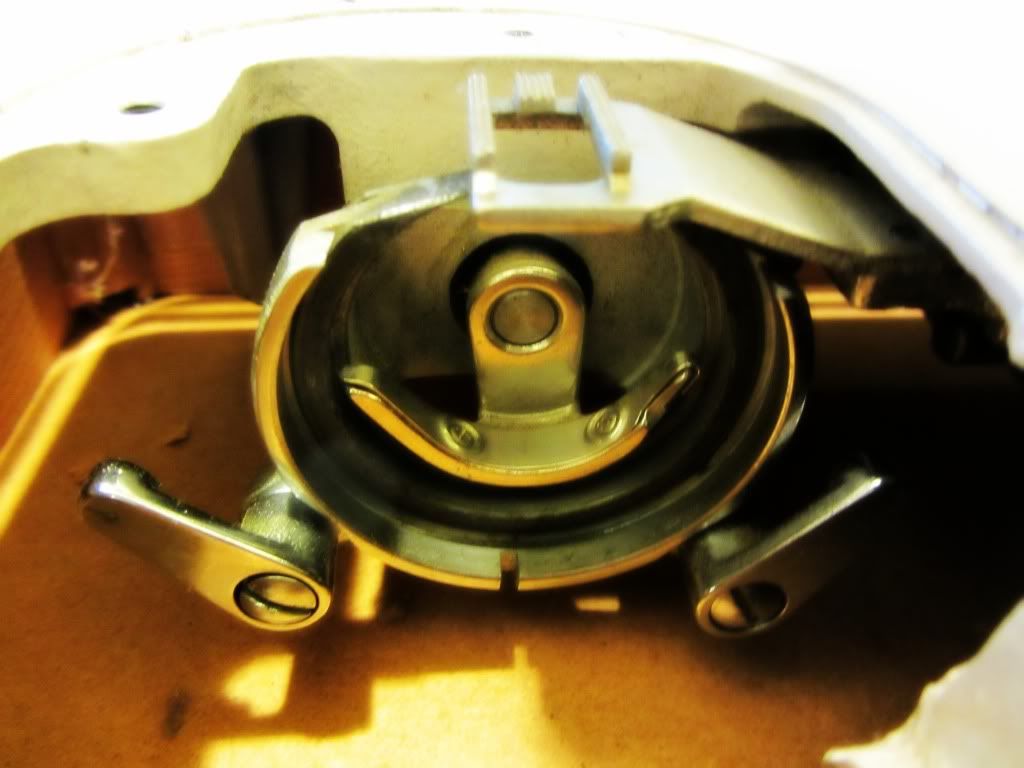 There can be a lot of dust in this area, and sometimes thread from the bobbin can be wound around and stuck. Dust out all the nooks and crannies with the little brush. Take a bit of oil on your cloth, and rub the inside of this compartment where the metal parts move. There was a bit of grime on mine that needed rubbed off!
T

hen re-assemble the bobbin, push the clamps back on, and you're set! Replace the metal plate and screws, then onto the next section! (at this time you could always replace the needle in your machine, if this hasn't been do

ne for a while.)
4. After cleaning up under your machine, we'll direct our attention to the top. See the 2 screws below? Remove those, and the top case will p

op off!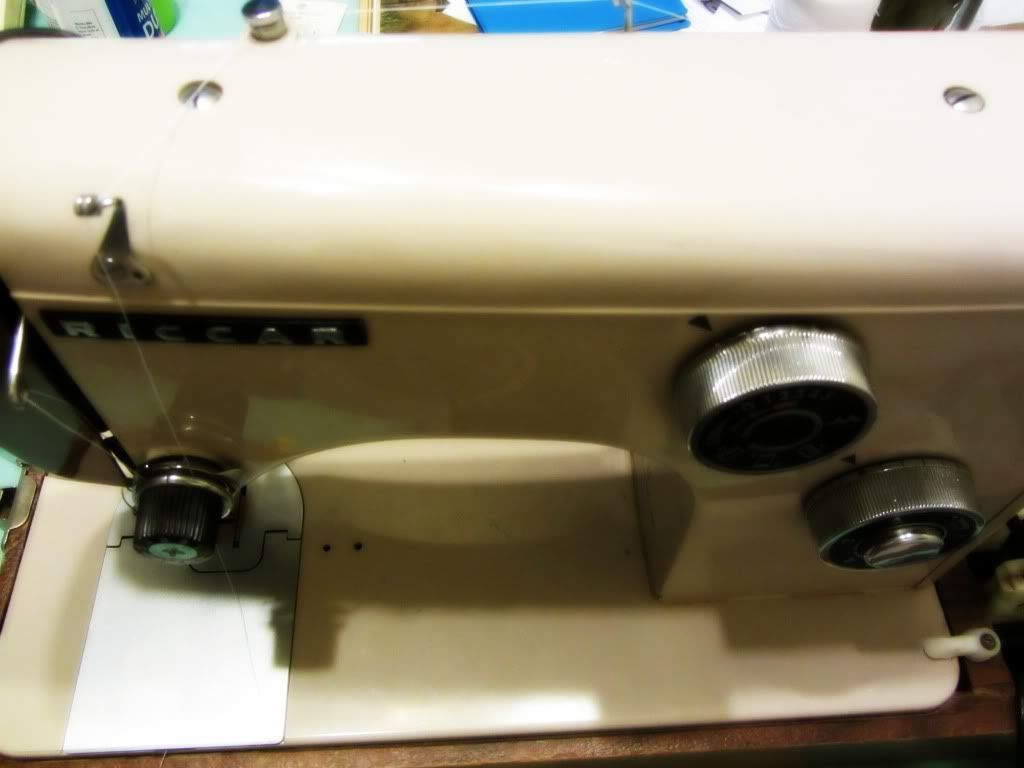 This, is what is exposed:
You will most likely see a bit of dust. U

se your little brush and dust off the fuzz.
Now, according to the instructions on your machine manual, you will oil various moving parts. If you don't have a manual, I recommend looking it up. Most sewing machine sites will have them online! It's very helpful, because I wouldn't have found all the areas to oil, without the diagram, and every machine is a bit different on the inside.
For my machine, there were about 5 areas on the inside to oil. Various bars roll, other metal pieces pivot, and some rotate with each other. Oil with a tiny bit of oil, each of these moving pieces so that they can move smoothly. Once you're done, re-attach the top pa

nel with the screws.
5. Next, we'll take a look at the base of the machine again. There are clamps that hold the base of the machine onto the case. If you move these off of the base, the machine will roll back and expose it's underside. Ok, that sounded w

eird.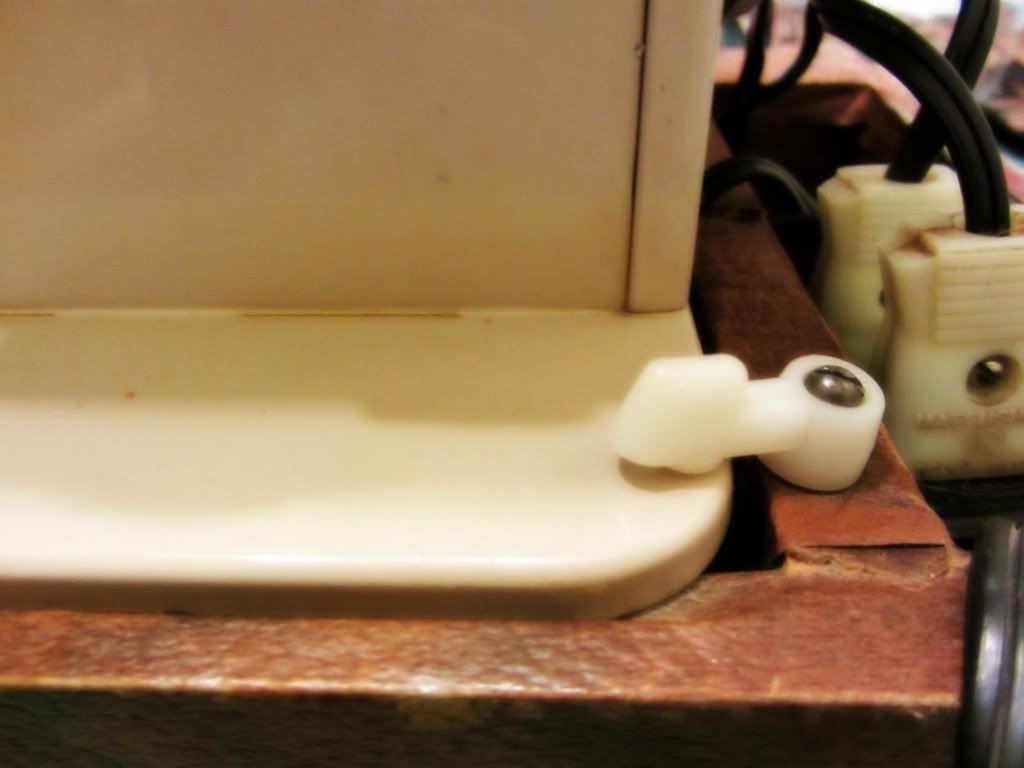 Use the brush and get rid of any fuzz and dust. I let all of this fall into the base of

the machine.
This is another example of really needing your manual. There are several areas beneath the machine with moving parts that need oiled. Drip some of your oil on your cloth and oil up the parts. Also, use the spout that came with your sewing machine oil to grease up the hard-to-reach

places!
6. You're almost done!! Now, break out your vacuum. It's time to get rid of all this dust for good. All of my dust accumulated in the base of the machine case. Much easier to clean when it's all in the same place.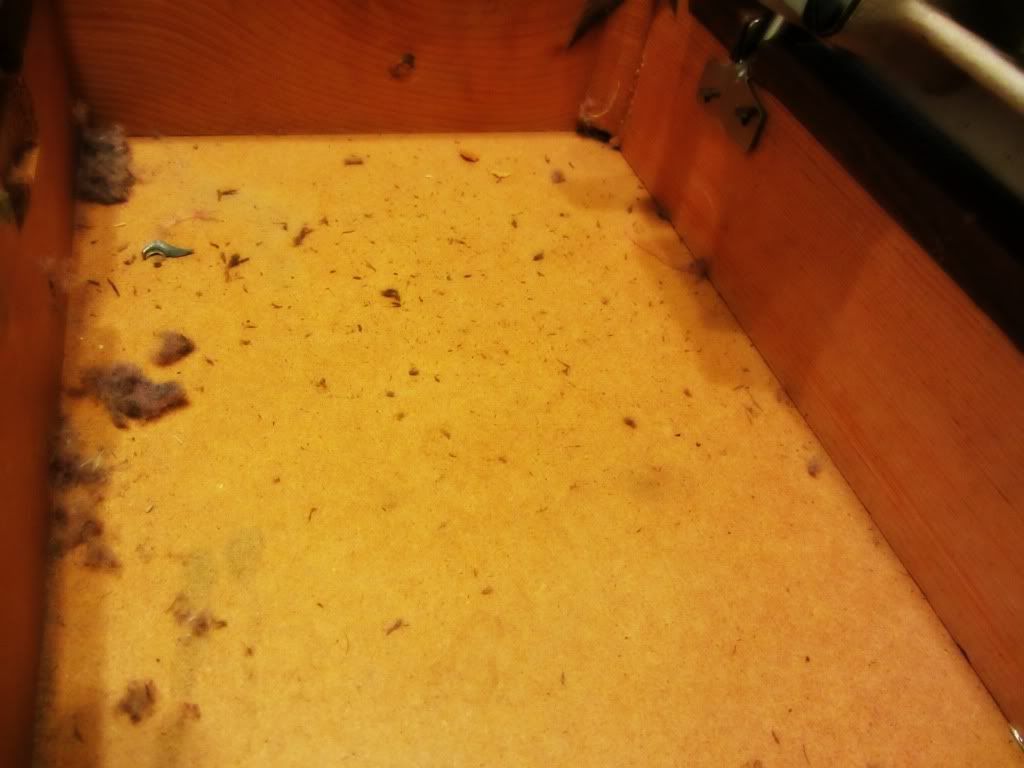 Isn't it nasty how much dust was in my machi

ne?
Poor baby sewing machine...
Since I'll be sewing a bit more often, now, I will be cleaning it

much more often!
Vacuum it all up and you're done! Re-attach the base and take a deep...

*clean* breath!
There you go! Now you know how to clean your sewing machine. Arm yourself and con

quer that beast!
Linked to:
Artsy Corner Th

ursday Link Party #5
Happy Hour Linky Party
Simple Lives Thursda

y #119
Saturday Spo

tlight #36